Harmony bangle 30th Anniversary
Harmony bangle 30th Anniversary
Share
"The Harmony bangle has always pushed us to be innovative, to experiment and rediscover what we thought we knew. It is anchoring so many milestones of what Hemmerle has achieved and as we evolved with our materials, the Harmony bangle evolved with us."
Christian and Yasmin Hemmerle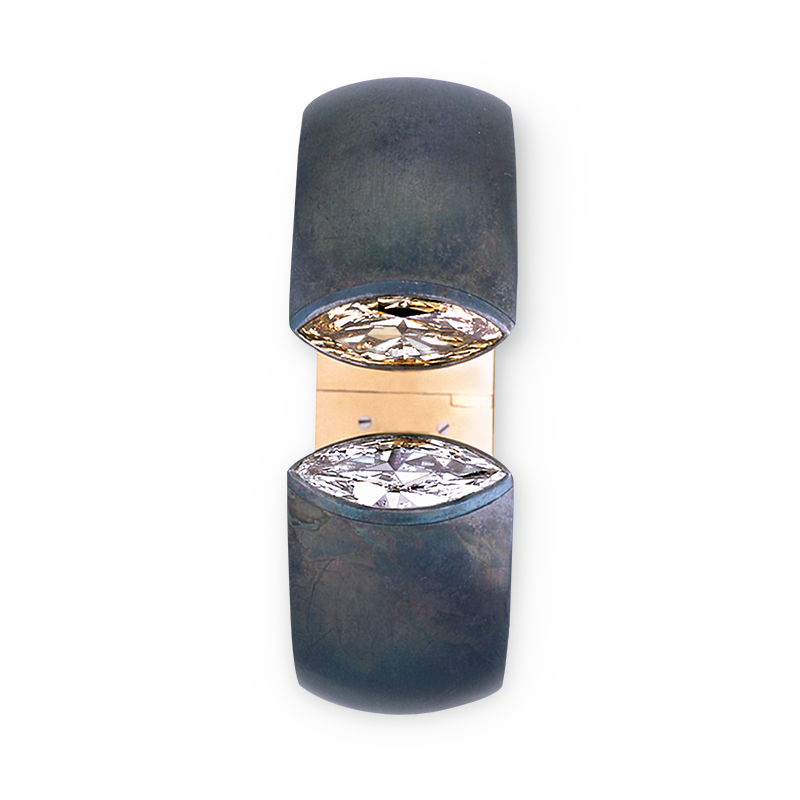 An ode to balance and symmetry, the Harmony bangle can be recognised as a signature of Hemmerle. As the striking, open-ended bangle celebrates its 30th anniversary in 2021, it remains just as iconic as when it was first created in 1991. The simple and sophisticated form synchronously references ancient jewellery and modern sculpture; while providing a canvas for Hemmerle's ever-evolving material and technical experimentation. Only a handful of designs are completed per year.
"The Harmony bangle embodies everything that Hemmerle stands for – craftsmanship, materials and wearability."
Yasmin Hemmerle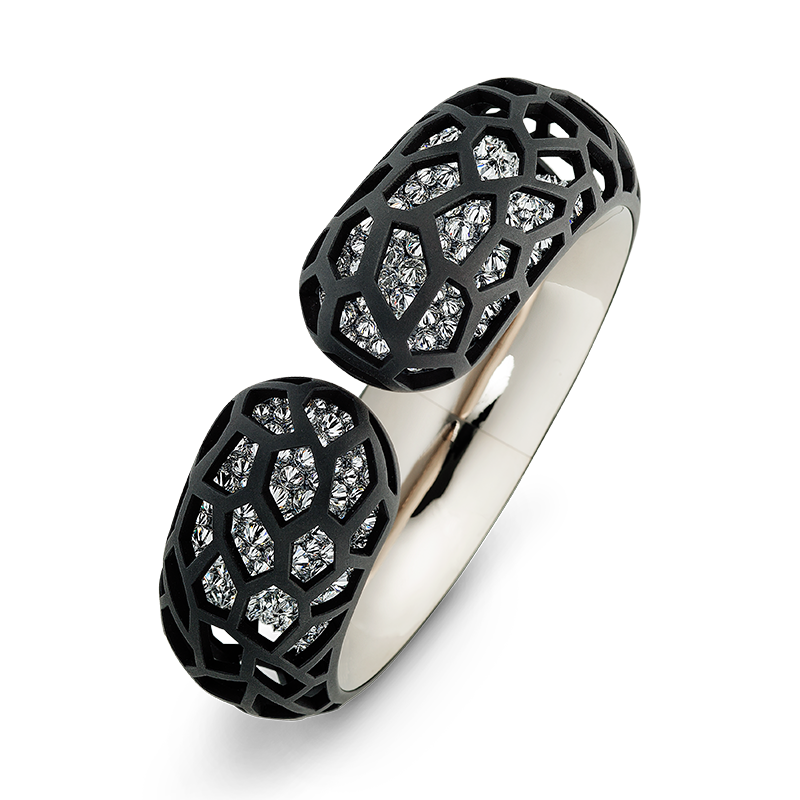 Though each decade has brought new styles and material palettes, the generous curved form of the Harmony bangle has stayed consistent with the original design by Stefan Hemmerle. Design development began in the late 1980s to reach the classic yet technically refined shape and mechanism that has endured for 30 years. Significantly, the bracelet seamlessly integrates a dynamic clasp mechanism, engineered for the ease of its wearer to slip on and close in one smooth movement. At its time, this twist clasp was a progressive move for a fine jeweller, signalling female emancipation, modernity, and the evolution of customs surrounding precious jewellery. Today, it remains just as ingenious.
"I wanted to create a bangle that a woman could wear every day and put on easily herself."
Stefan Hemmerle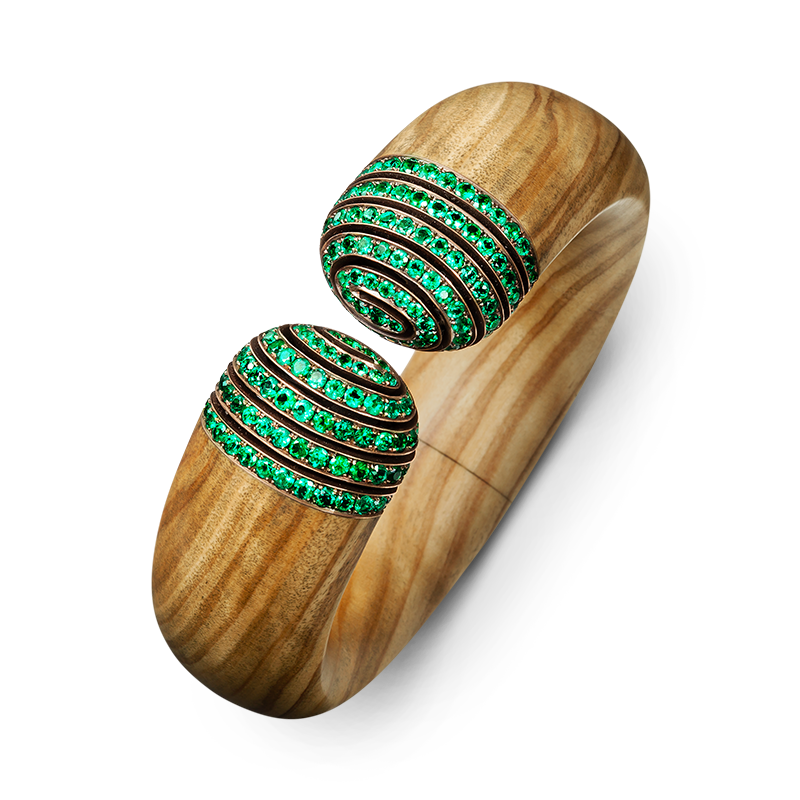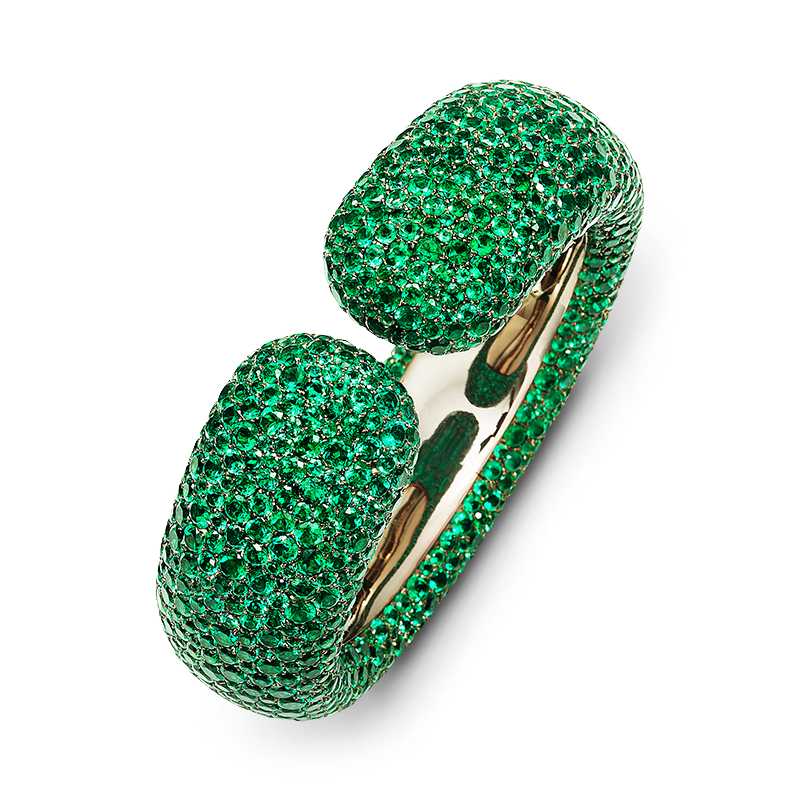 "The bangle has become an immediately recognisable Hemmerle signature. Agelessly modern, simple yet sophisticated, tribal yet refined, it encompasses the dualities that bring dynamism and thrilling tension to all Hemmerle jewels: sensual and severe, precious and humble, magnificent and mundane, formal and fluid."
Vivienne Becker, Jewellery historian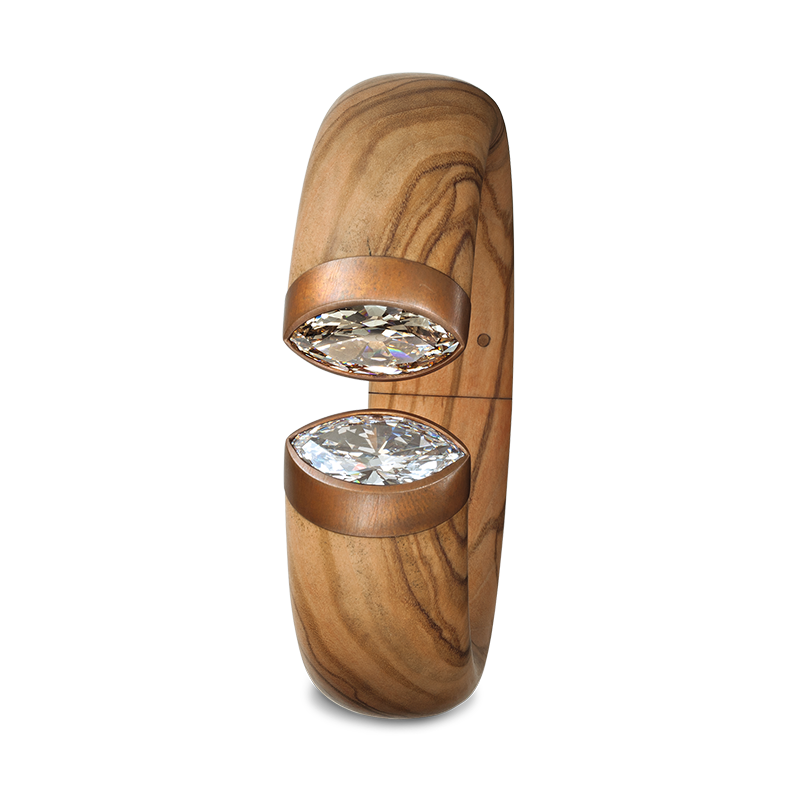 Every Harmony bangle is individual and never to be repeated; from intensive opulence to subdued minimalism, each has its own identity. Early bangles were crafted in smooth polished gold. The 1990s brought seductive contrasts – knitted pavé white gold and yellow diamonds, coloured stones, and marquise-cut diamonds set into the curved ends. The following decades saw provocative pairings of precious, semi-precious and unorthodox materials such as rare wood, copper, iron, bronze and pebbles from Munich's Isar River. These material fusions form transportative vessels that are rich in aura and history.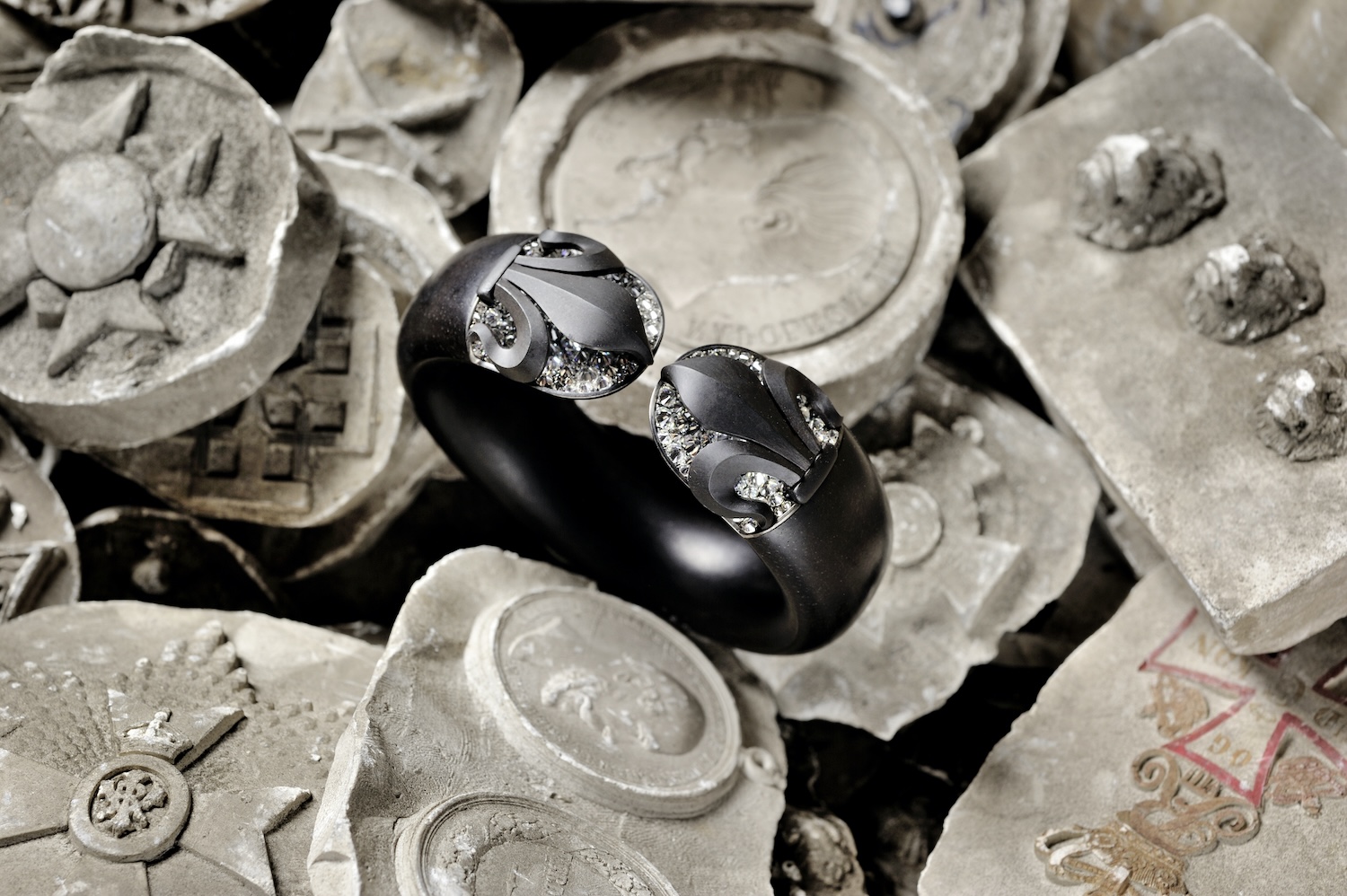 The experimental nature of the Harmony bangle reflects the ambition, sensitivity and expertise of the craftsmen of Hemmerle's Munich atelier. Each design takes over six months to create – the outcome of deep material exploration, honed techniques and unconventional approaches to jewellery design. For example, the signature knitted beadwork, painted coloured aluminium, or latticework. When a Harmony bangle is finally completed, it leaves the atelier as a sculptural and unique work of art.
"The archetypal open-ended form is ancient in origin. But where once there might have been an amuletic lion or ram's head, there is a distinct soft and gem-smothered roundness that both stimulates the imagination and contrasts with the sleek, streamlined mechanistic simplicity of the overall silhouette. The dynamic purity of line demonstrated the Hemmerle rejection of all superficiality, highlighting the celebrated painterly sense of colour, velvety deep and seductively intense, the juxtaposition of matt and sheer, and the inventive use of patinated copper, care woods and other experimental materials"
Vivienne Becker
For 2021, a significant feat of engineering signposts the Harmony bangle's 30th anniversary. Continuing Hemmerle's experimentation in unorthodox metals and alloys inspired by black cast iron jewellery of Berlin in the 19th century, two metals copper and silver have been fused into a delicate and naturalistic puzzle of lines. Never previously achieved at the atelier, the technique has been refined over hundreds of hours with the technical fluency of Hemmerle's master goldsmith; resulting in a showcase piece of the highest quality execution and innovation.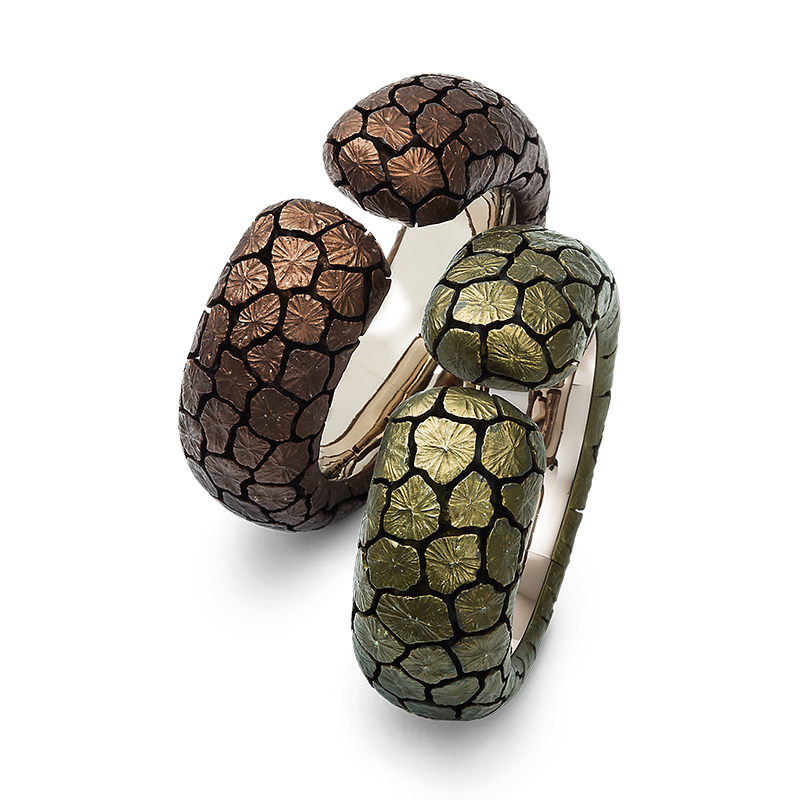 "It's my second skin – I wear mine every day and I call it my Wonder Woman bracelet, for me it's like a security blanket."
Yasmin Hemmerle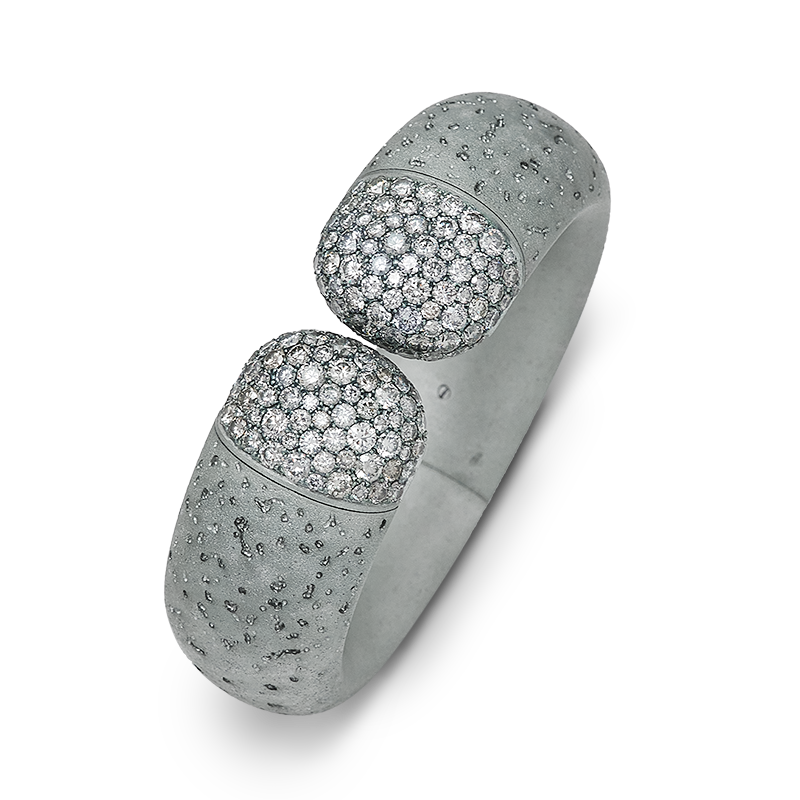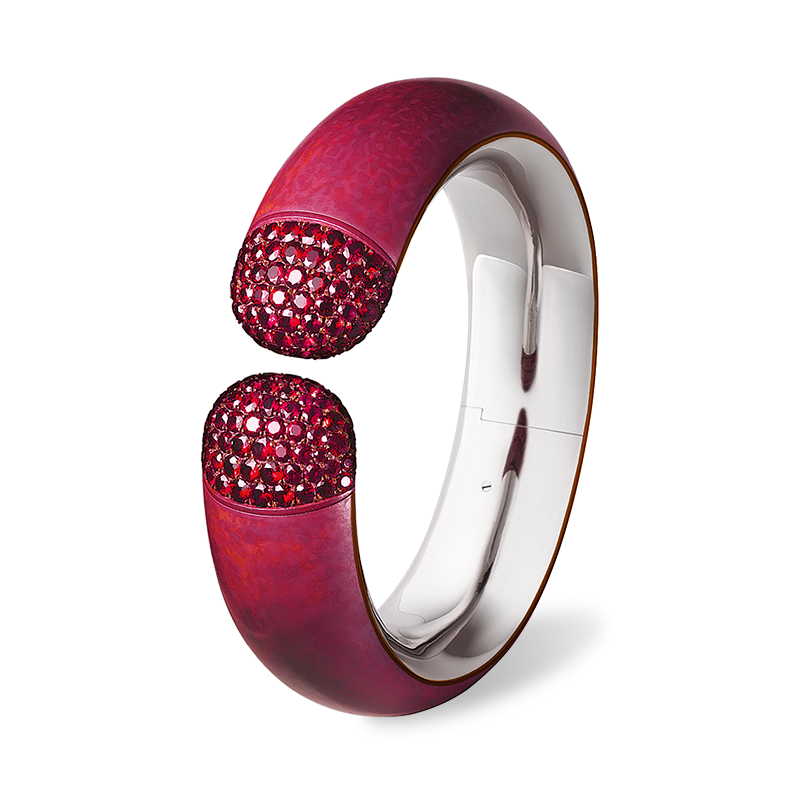 It is this combination of material excellence and expert craftsmanship that has drawn museum collections to the Harmony bangle. In October 2010, a special bangle joined the permanent collection of the William and Judith Bollinger Jewellery Gallery at London's Victoria and Albert Museum. This consummate example of Hemmerle design is crafted in red patinated copper and white gold, with cherry-red pavé and 172 brilliant-cut spinels capping the ends. It was a proud moment for Hemmerle, marking 99 years after Prince Arthur of Connaught brought the Hemmerle-made diamond-set Bavarian Order of St Hubert back from Munich for King George V, which remains in the Royal Collection today.
"The Hemmerle Harmony bangle has been acquired by the V&A to represent the distinctive and highly original voice which Hemmerle has brought to jewellery of the highest calibre."
Richard Edgcumbe, Curator of the V&A's jewellery collection
"An inspired choice for the Victorian Albert's superb and much-loved permanent jewellery collections, the Harmony bangle embodies all of Hemmerle's most distinctive characteristics. Uncompromising in its modernism yet resonating with emotive, almost unidentifiable, echoes through history, the bangle fuses the past and the present and points to the future of fine jeweller".
Vivienne Becker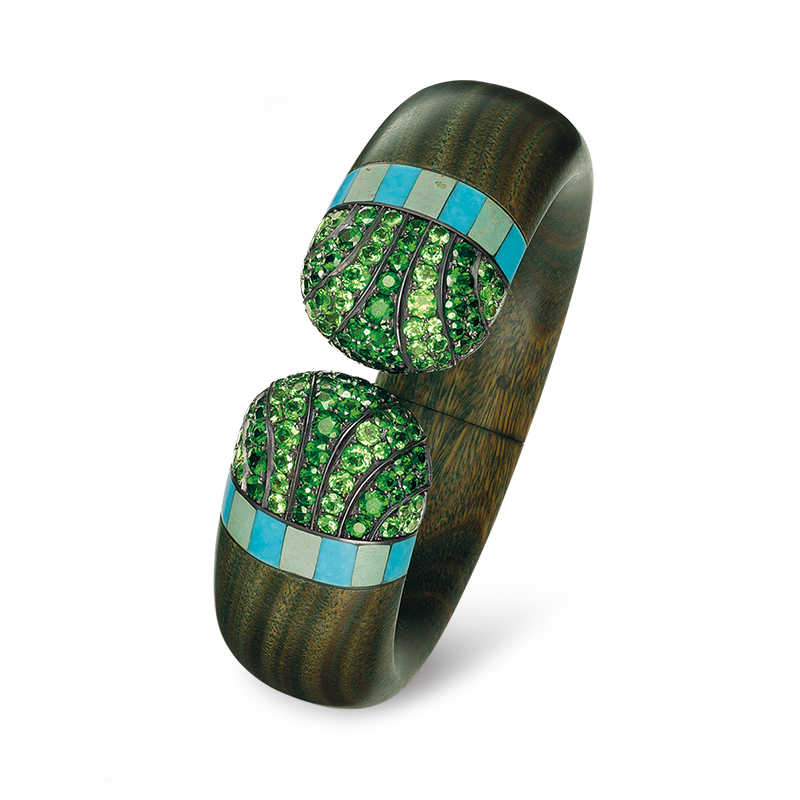 A Harmony bangle inspired by the history of Egyptian jewellery joined the permanent collection of the Cooper Hewitt, Smithsonian Design Museum, New York in 2014. This bangle, made of carved pock wood, cut and polished turquoises and tsavorite, was part of the Egyptian Story project presented by Hemmerle in 2012. The concept took root when the Hemmerle family visited Cairo to meet the family of Yasmin, and resulted in colours inspired by the Nile combined with Hemmerle's signature mix of materials with high-quality craftsmanship.
"The Harmony bangle speaks of today's quest for individuality – each piece of Hemmerle is unique. It illustrates the new luxury of unobtrusive, low-key opulence, recognised only by another aficionado, and the need for intensely personal jewels that make a statement about our values, taste and our sense of self."
Vivienne Becker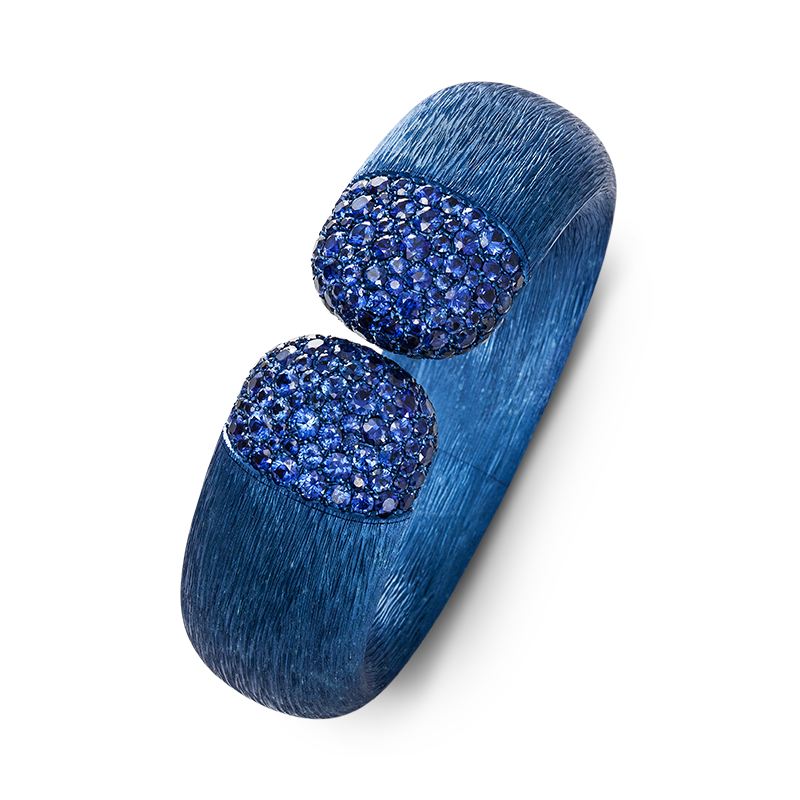 The Harmony bangle encapsulates the historic and evolving craft of Hemmerle. Both consistent in its shape and form, yet always unique; a rare expression of materials, craftsmanship and signature design. Fearlessly opulent, yet equally down to earth, revealing the unexpected beauty of raw unorthodox materials. Synchronously modern in its conception, timeless in its appeal, and visionary in its spirit – the Harmony bangle somehow always carries beauty and verve in balance.
For more information please contact info@hemmerle.com
Please sign-up here to receive e-invites on upcoming events.