Exhibitions
Hemmerle's creations can be found in the permanent collections of the Victoria & Albert Museum, London; The Metropolitan Museum of Art, New York; Cooper Hewitt Smithsonian Design Museum, New York; and Die Neue Sammlung, Munich. As jewellery has become more widely recognised as an art-form in recent decades, Hemmerle has been invited to participate in museum exhibitions across the globe.
2023
Museum of Fine Arts
Boston
Following a major renovation of its Rita J. and Stanley H. Kaplan Family Foundation Gallery for Jewellery at The Museum of Fine Arts in Boston, a pair of Hemmerle's sapphire and iron tassel earrings, donated by Hemmerle to the gallery, will go on public display. Due to re-open in 2024, the remodelled gallery will showcase roughly 150 pieces from the institution's jewellery collection, spanning some 4,000 years of human culture, and Hemmerle's creation is a fitting tribute to its contemporary aspirations, fusing the finest example of traditionally woven beads with the unexpected use of iron – a nod to that first unorthodox commission which introduced the maison's modernist aesthetic. Crafted in 2018, the earrings' crown motif is a tribute to the ancient embossing stamp designs which line Hemmerle's vaults, a link to its heritage as a medal maker, and a fitting embodiment of the current meeting the past in a creative output.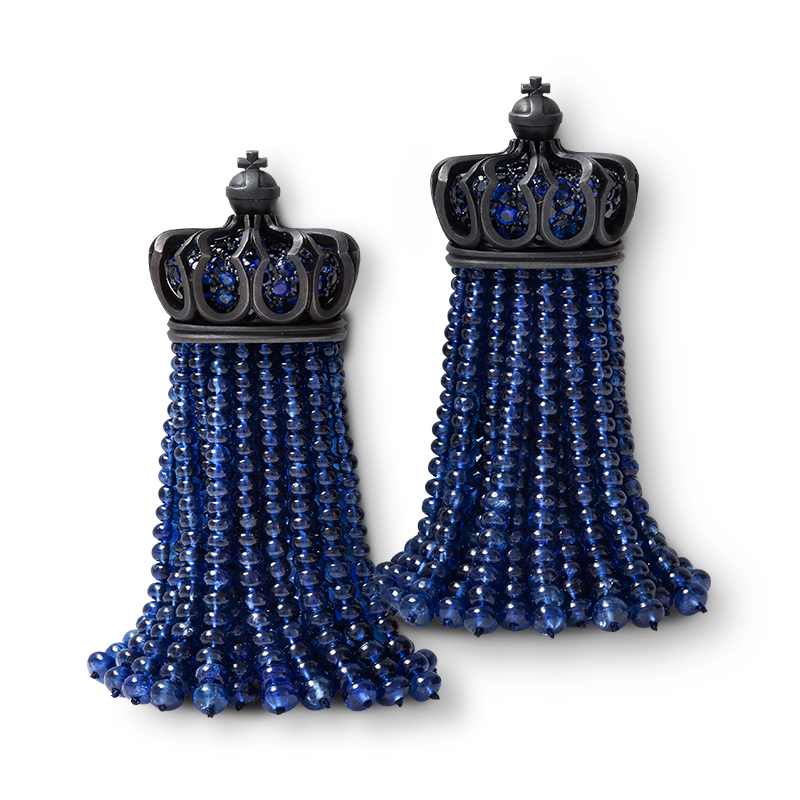 "The way Hemmerle simultaneously creates ground-breaking designs, often introducing new materials to fine jewellery production, whilst also honouring a long history of craftsmanship is very exciting. By offering robust apprenticeship training programmes to young artisans, Hemmerle also looks to secure the future of its unparalleled techniques and storytelling traditions."
Emily Stoehrer, PhD Curator of Jewellery at MFA Boston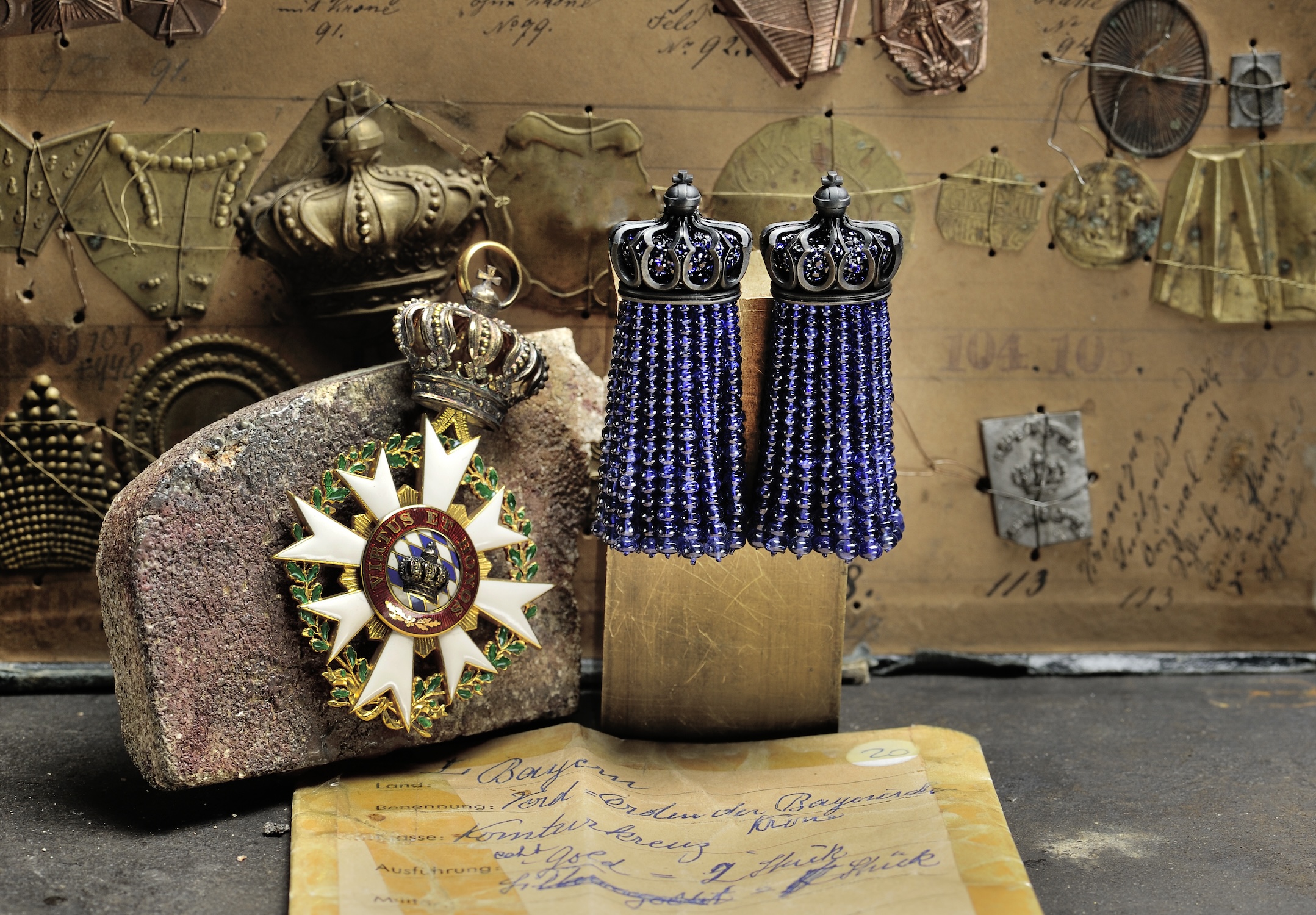 2022
MUSEUM SØNDERJYLLAND - SØNDERBORG SLOT
Sonderburger Schloss, Sønderborg, Denmark
8 April - 23 October 2022.
Hemmerle is pleased to be part of "Macabre Masterpieces" at Sønderborg Slot, a fascinating and thought-provoking exhibition of extraordinary pieces of jewellery and precious art objects related to the cultural history of death. This is the largest special exhibition shown at the palace for decades and focuses on an often taboo but eternally current topic, namely the human staging and artistic processing of death. It is showcased in five rooms in the western wing of the palace and the chapel of the palace, Queen Dorothea's Chapel.
Included are four Medals of Honour by Hemmerle, each showcasing the heritage of the family business founded in 1893. In 1895 Hemmerle was appointed supplier to the Bavarian royal court and Hemmerle remained the preferred creator of all medals in the Kingdom of Bavaria up until the end of the monarchy. At the beginning of the 20th century, the Hemmerle brothers became suppliers to the Vatican, producing almost all its Papal medals.
The exhibition, curated by jewellery writer Nina Hald, explores challenges and comments on the subject of death – by historical and royal-provenance jewellery and precious art objects, contrasted with recently-made, contemporary works, Danish as well as international.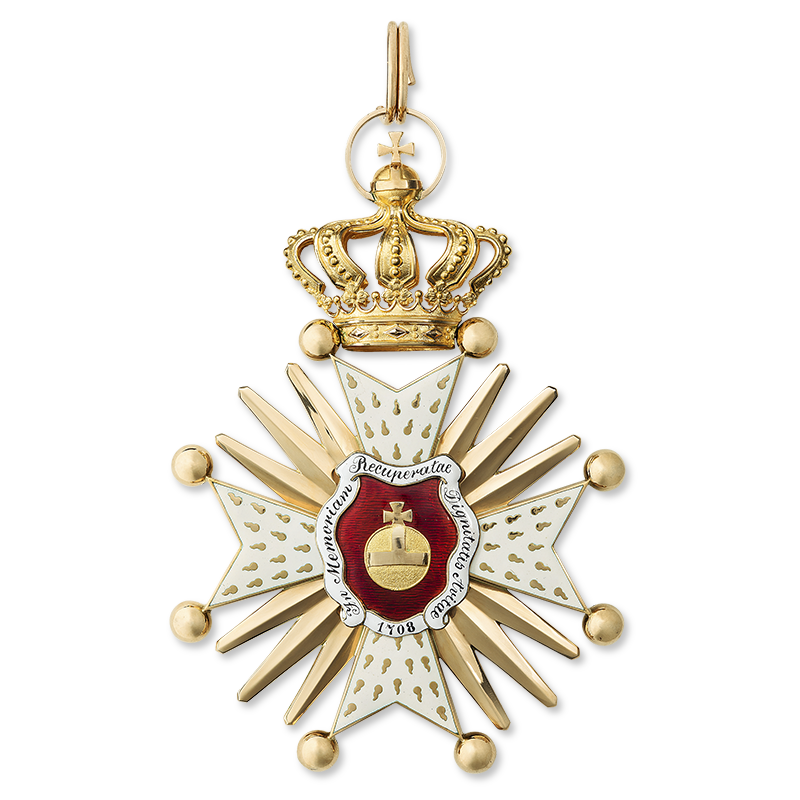 Hemmerle, produced the oldest and most distinguished Bavarian order, the House Knight Order of Saint Hubertus, whose tradition goes back to the 1444 foundation of Duke Gerhard II of Jülich-Berg (around 1416/17 - 1475), and which was renewed in 1708 by Elector Johann Wilhelm II of the Palatinate-Neuburg, Duke of Jülich-Berg (1658 - 1716).
A masterpiece of jeweller's art in the field of orders. The tradition of awarding them as house orders is still maintained in the House of Wittelsbach today.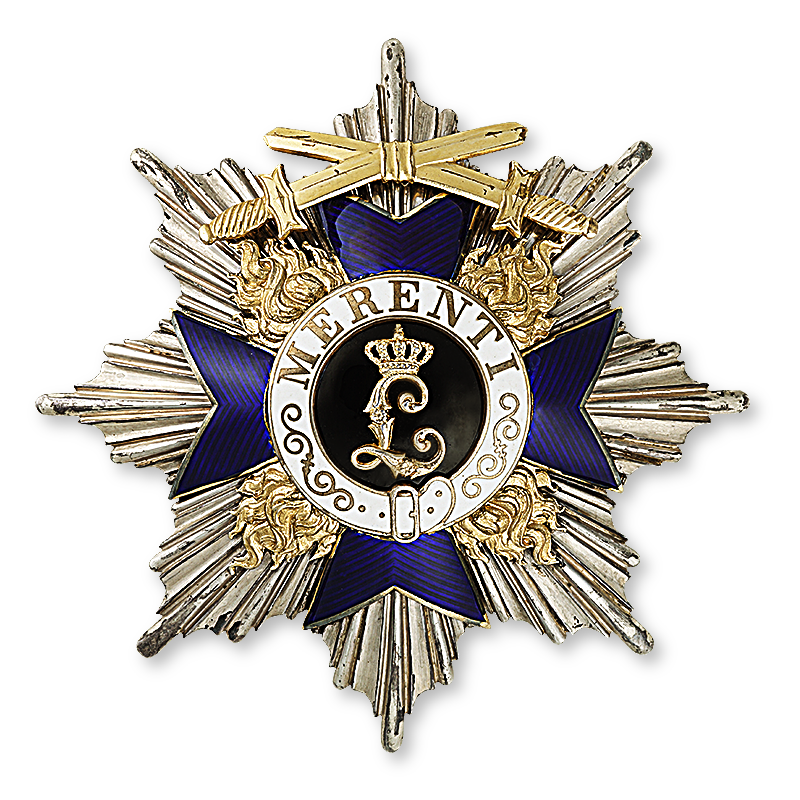 From 1917, during World War I Hemmerle produced the Military Order of Merit, in silver-gilt execution, consisting of the small sash and the corresponding breast star. This highest degree of the Order was reserved for commanding army generals, and was awarded in this version only nine times and manufactured exclusively by Hemmerle and delivered to the Grand Chancellery.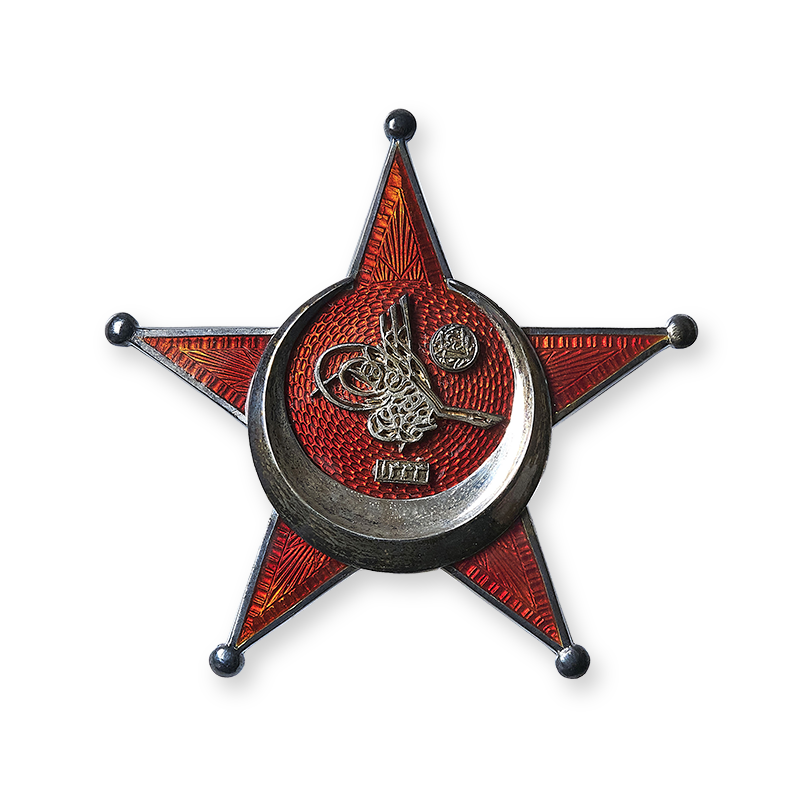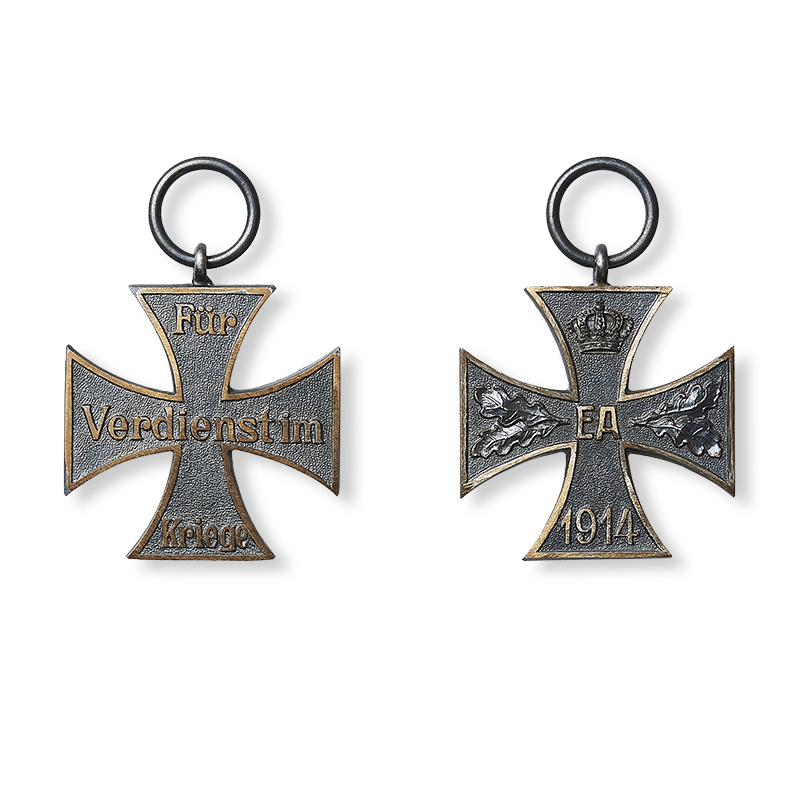 Due to the frequent awarding of "foreign" decorations to Bavarian subjects during the First World War, the demand for replacement copies arose. Endowments in the style of the Prussian Iron Cross, such as the Hamburg Hanseatic Cross shown here, the Brunswick Ernst August Cross or the Ottoman Iron Crescent were thus part of the product range of Hemmerle, which also produced the Baltic Cross of 1919, an award of the Free Corps and volunteer units that were deployed against the Bolshevik armies in the Baltic States in 1918/19.
2021
AMERICAN MUSEUM OF NATURAL HISTORY
New York
Hemmerle is pleased to be part of the "Beautiful Creatures: Jewellery Inspired by the Animal Kingdom"exhibition at the American Museum of Natural History in New York, conceived as a tribute to the museum's 150th anniversary and a companion piece to the permanent newly renovated Mignone Halls of Gems and Minerals.
This insightful and thorough exhibit is distinctly curated and researched by jewellery historian Marion Fasel and showcases 120 astonishing pieces of jewellery created during the mid-19th century to the present day.

Included are three Hemmerle creations, each showcasing the creativity and inspiration drawn from the animal kingdom.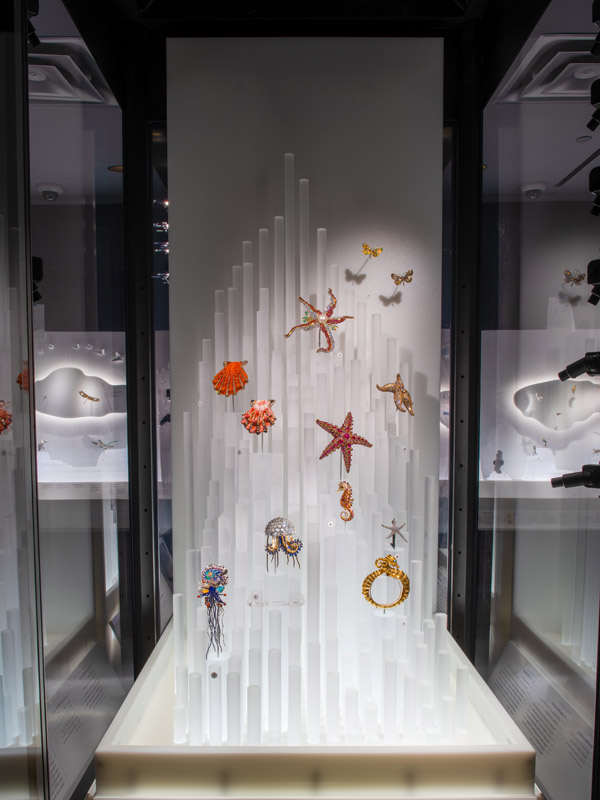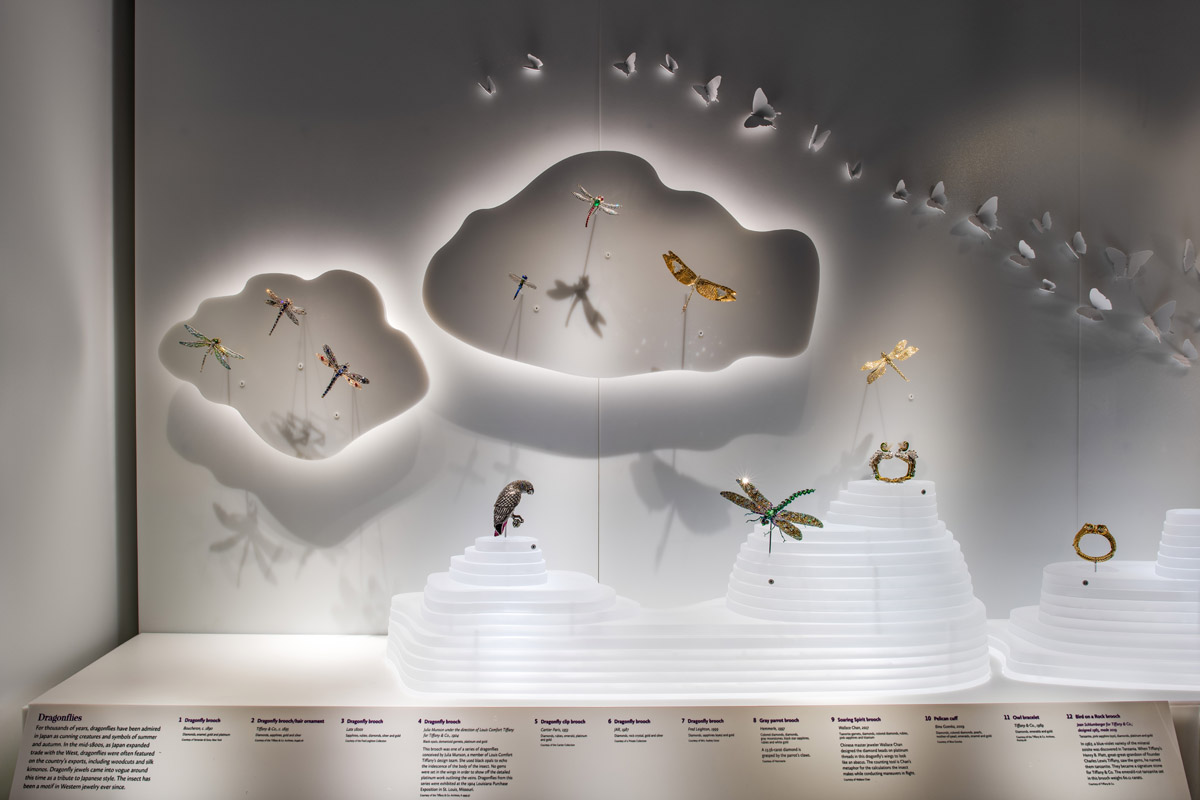 The Hemmerle Tarantula brooch, completed in 1995, features a 111.76ct horse-conch pearl, one of the largest of its kind, "a natural pearl of this size and quality is rare and therefore can be considered an exceptional treasure".
The idea for the tarantula stemmed from the spiders Stefan Hemmerle and his teenage son at the time, Christian Hemmerle, enjoyed studying at exhibitions around Munich including those at the Museum of Man and Nature.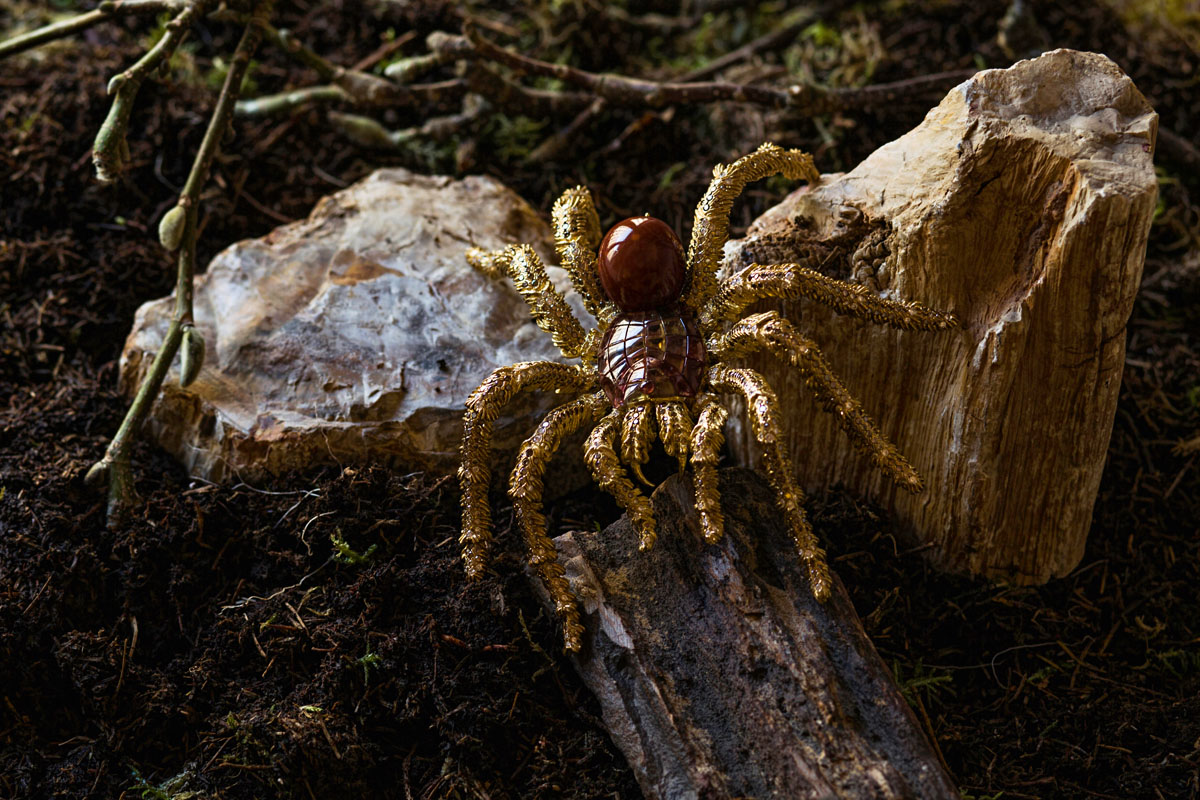 The Grey Parrot brooch made in 1997 sees an old-mine diamond over 13,5ct in the bird's claws and finally the Starfish brooch, 1994, features what was an experiment at the time with copper plated gold, part of the house's new earth tones colour palette developed that has now become a central part of its aesthetic.
"Beautiful Creatures", June 12 - September 19, 2021.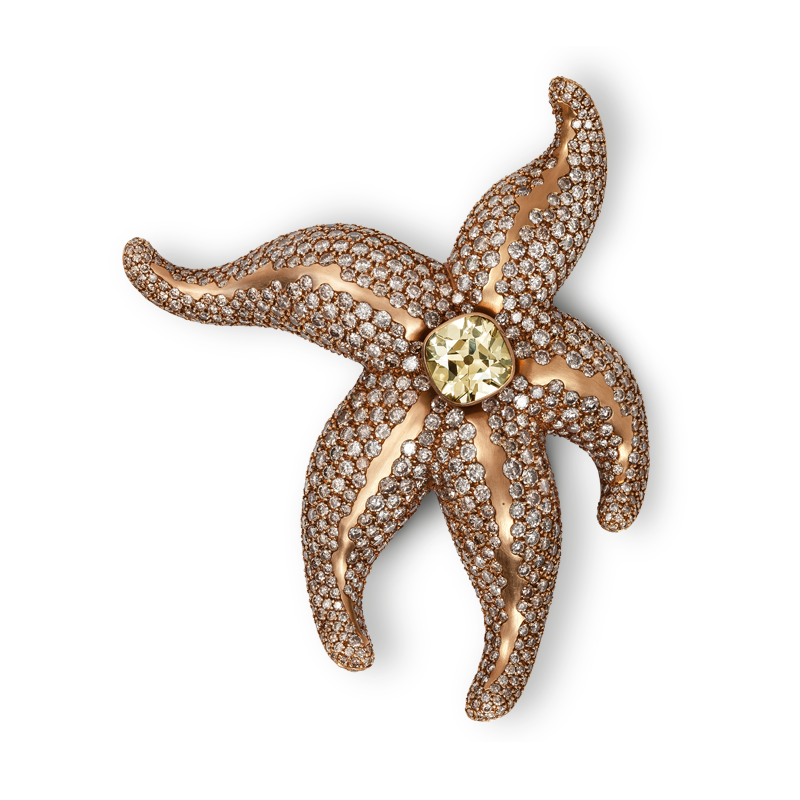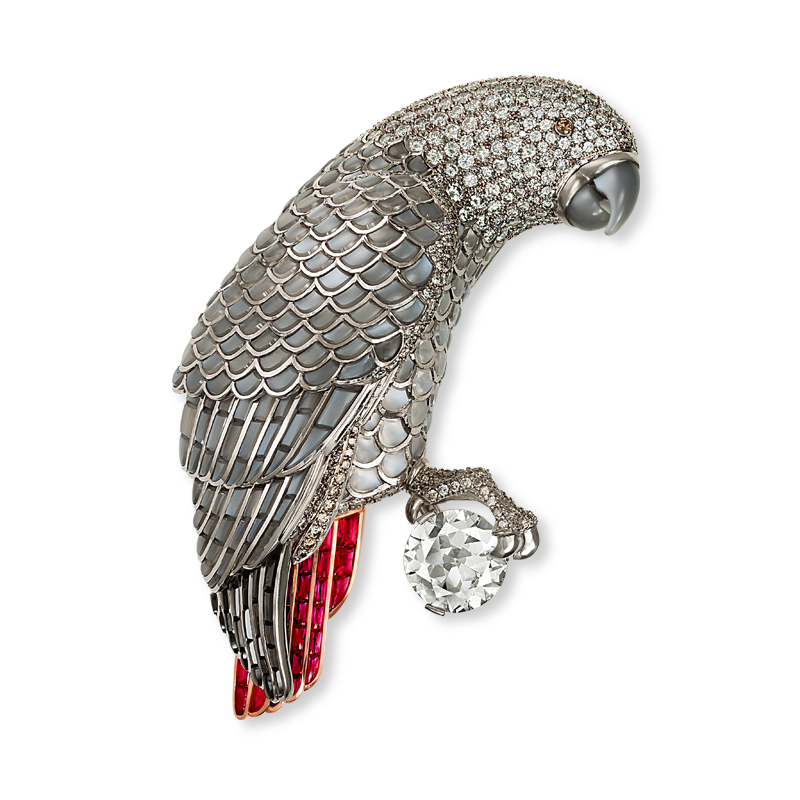 2019
The Metropolitan Museum of Art
New York
A Bishop's Cross created by Hemmerle in 1900 has joined the permanent collection of The Metropolitan Museum of Art, New York. The cross was designed by Hemmerle's founders - brothers Joseph and Anton Hemmerle - for the Exposition Universelle of 1900 in Paris, where it was awarded one of the show's coveted prizes.
The body of the cross is 18-karat yellow gold with filigree work and opaque blue, black and white enamel is inlaid alongside translucent red and transparent cream enamel. Amethysts, citrine cabochons, chalcedony and pearls also adorn the piece.
The Hemmerle cross merges various medieval stylistic influences with great verve into a new ornamental revival language, typical of Hemmerle's dedication to both quality and innovation.
Within the Department of European Sculpture and Decorative Arts, the cross joins the Museum's comprehensive and historically important collection that reflects the development of a number of art forms in Western European countries from the early fifteenth through to the early twentieth century.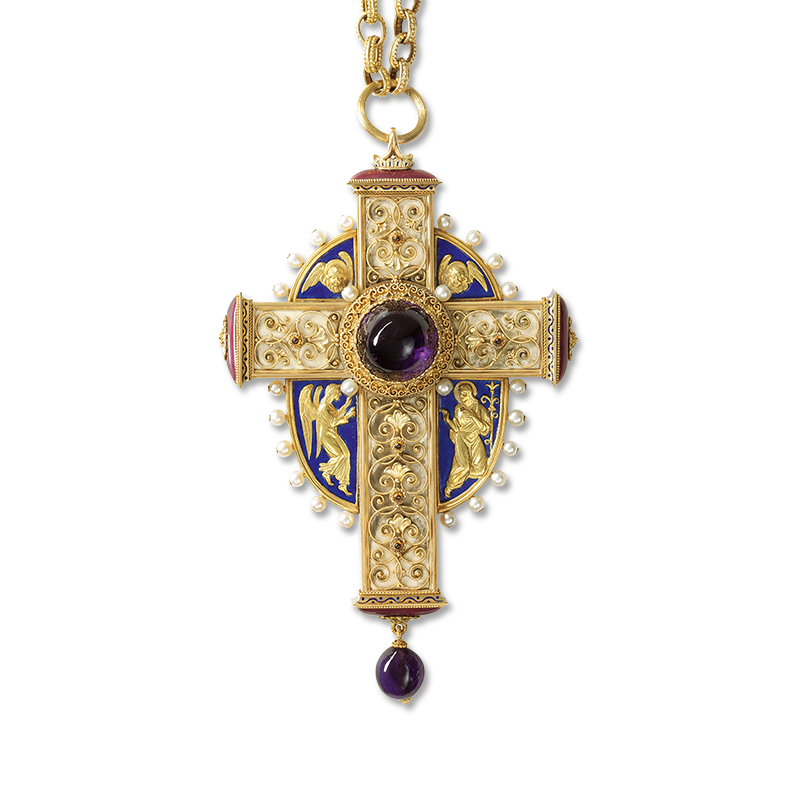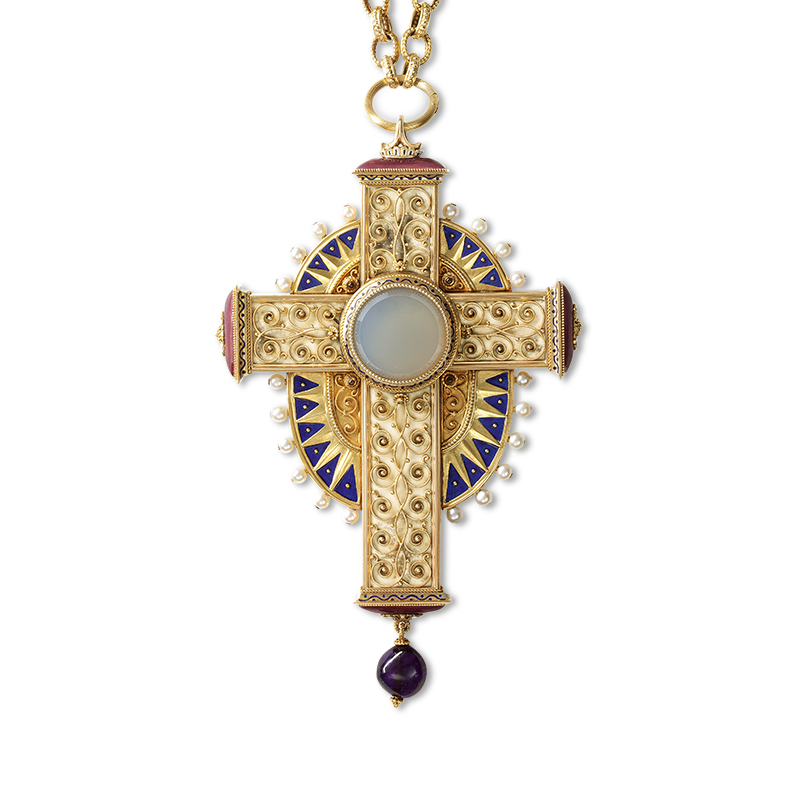 The cross was part of the private collection and archive of the Hemmerle Family since its creation in 1900 until it was gifted by Stefan and Sylveli Hemmerle to The Met.
In our 125-year history, the Bishop's Cross, made in the turn of the 20th century, is a significant and celebrated milestone that has marked our history.
My wife Sylveli and I are delighted to gift such a precious part of Hemmerle to The Metropolitan Museum of Art in New York, as an important addition to such an esteemed public collection, where it can be celebrated further
Stefan Hemmerle
As with all our creations we strive to find them the perfect home and we could not be happier that our Bishop's cross is now part of a museum that has been a huge source of inspiration to us.
I would like to express my gratitude to my parents for such a generous gift on behalf of Hemmerle
Christian Hemmerle
2019
ANIMALIA FASHION
Gallerie degli Uffizi – Museo della Moda e del Costume
Florence
Hemmerle is pleased to announce its inclusion in Animalia Fashion at Uffizi Gallery's Costume and Fashion Museum, 8 January – 5 May 2019. The exhibition explores the impact of the animal kingdom on contemporary fashion and design. Included is Hemmerle's butterfly brooch created with striking green emeralds, tsavorites and peridots set in yellow gold.
Nature and its organic sculptural forms are an endless source of inspiration for Hemmerle. The butterfly-inspired brooch on view showcases Hemmerle's dedication to colour, impeccably matching gems so as to best respect the beauty and symmetry that nature creates.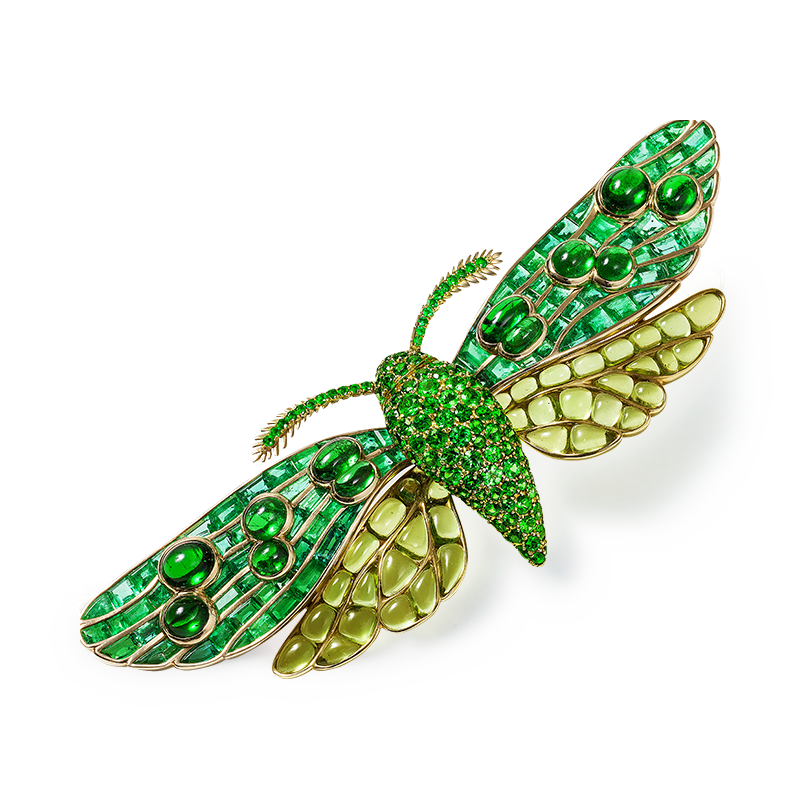 Depicting objects from nature allows for the use of daring colours and individualistic interpretations. Creating animals is an enduring and endearing tradition of fine jewellery making. For us, the animal pieces we have created chart the evolution of our style; the increasing naturalism and sophistication of colour, material and technique, and the use of specially cut gemstones, impeccably, and often invisibly set, to create a flow of colour and light.
Christian Hemmerle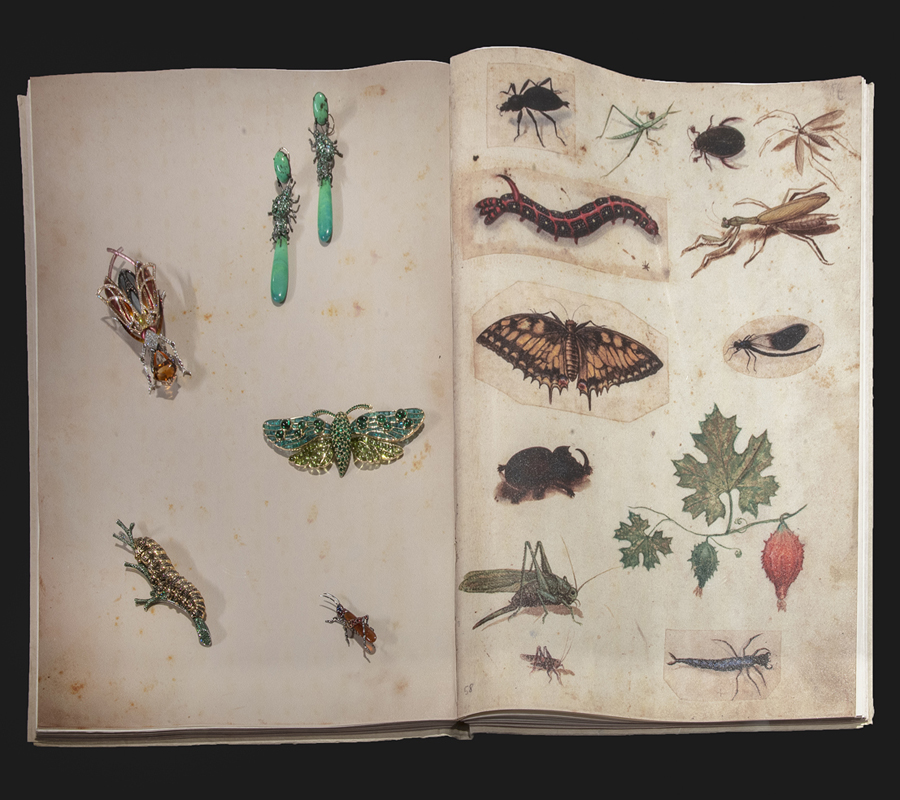 2016
BEAUTY
New York
Beauty - Cooper Hewitt Design Triennial, from February 12th – August 21st 2016, celebrates design and expands the discourse around the power of aesthetic innovation. A display of over 10 jewels demonstrates Hemmerle's strong visual identity developed over decades. Works inspired by nature including a eucalyptus brooch, snail brooches and bee earrings are exquisitely modelled with a hint of realism. A dedication to colour is seen in earrings made from bright orange and pink sapphires, a purple garnet Harmony bangle and a vibrant orange topaz ring. Found materials like cameos and carved jade are worked into contemporary designs and show that materials can drive creativity.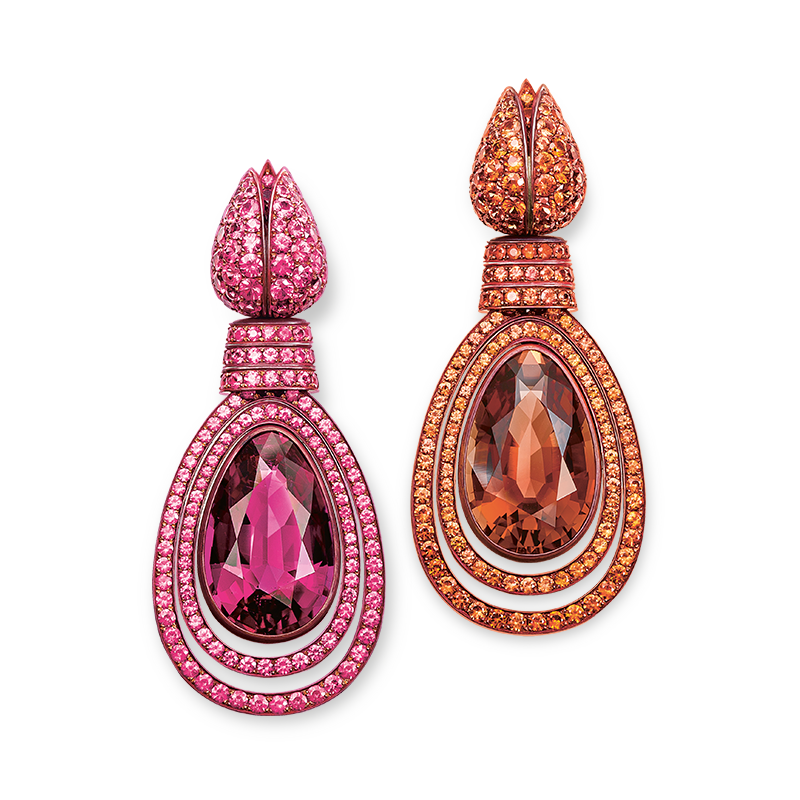 2014
COOPER HEWITT
New York
An exquisitely curvaceous Harmony Bangle inspired by Egypt and crafted in exotic pock wood with turquoises and tsavorite garnets capping the ends joined the permanent collection of the Cooper Hewitt, Smithsonian Design Museum. The museum reopened in December 2014 following renovation and restoration. Cooper Hewitt is the only museum in the USA devoted exclusively to historic and contemporary design. International in scope and possessing one of the most comprehensive collections of design works in existence, the museum's holdings range from Egypt's Late Period/New Kingdom (1100 B.C.) to the present day.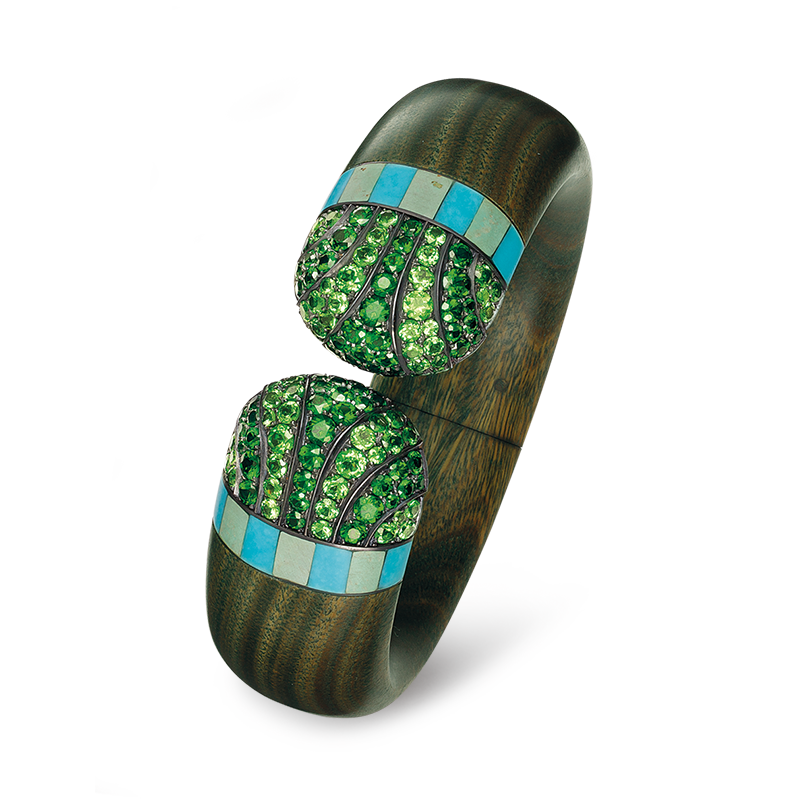 2013 – 2014
VICTORIA AND ALBERT MUSEUM
London
Pearls, September 2013 - January 2014, explores the history of pearls from the early Roman Empire through to present day. Hemmerle's work is presented in its own individual showcase within the exhibition. Alongside Hemmerle's infamous Tarantula brooch, rare melo-pearls in a creamy shade of yellow are displayed in a pair of earrings distinctively capped with glistening pavé-set bronze sapphires. Ancient carved jade discs are set with melo-pearls and reworked into a contemporary jewellery design. In another pair of earrings, mismatched bronze melo pearls are juxtaposed with brown diamonds.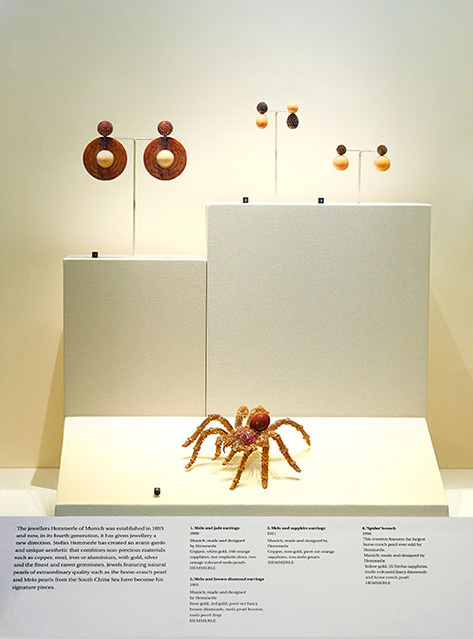 2010
MUSEUM OF ISLAMIC ART
Doha, Qatar
Hemmerle participated in The Pearl Exhibition, a show of rare pearls and jewellery at the Museum of Islamic Art, Doha, Qatar from January – June 2010. Famed for the astonishing naturalism of its design, the tarantula brooch was on display alongside earrings featuring two rare melo-pearls hanging from clusters of mandarin garnets with a striking flame structure worked in copper and pink gold and a brooch also made from melo-pearls. Found in melo melo snails from Vietnam, these sun-like orange pearls have the appearance of porcelain.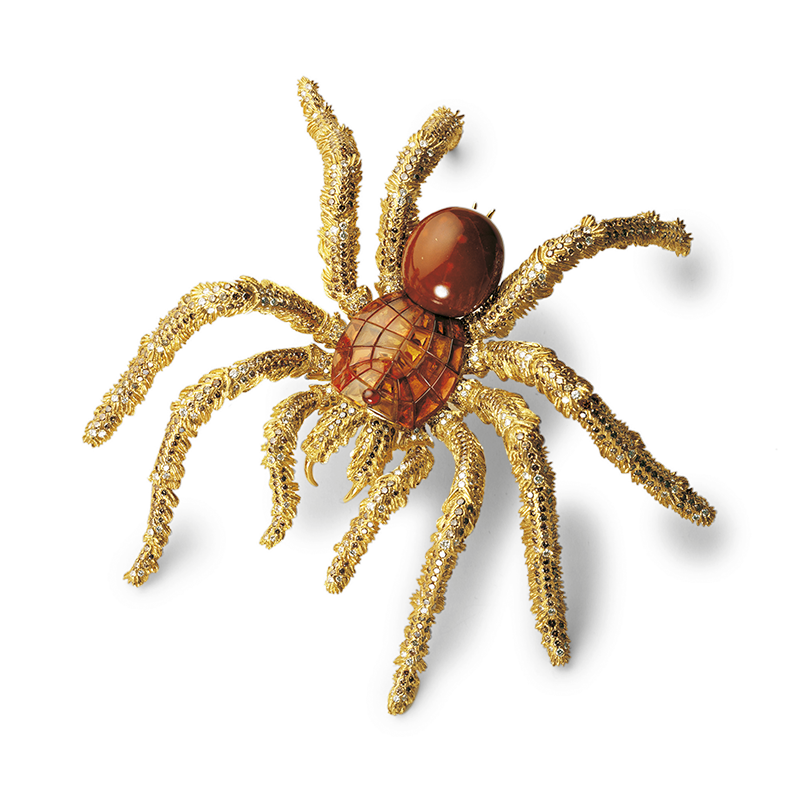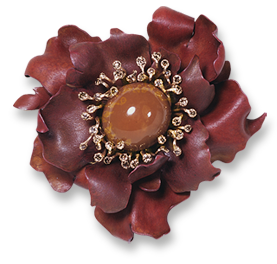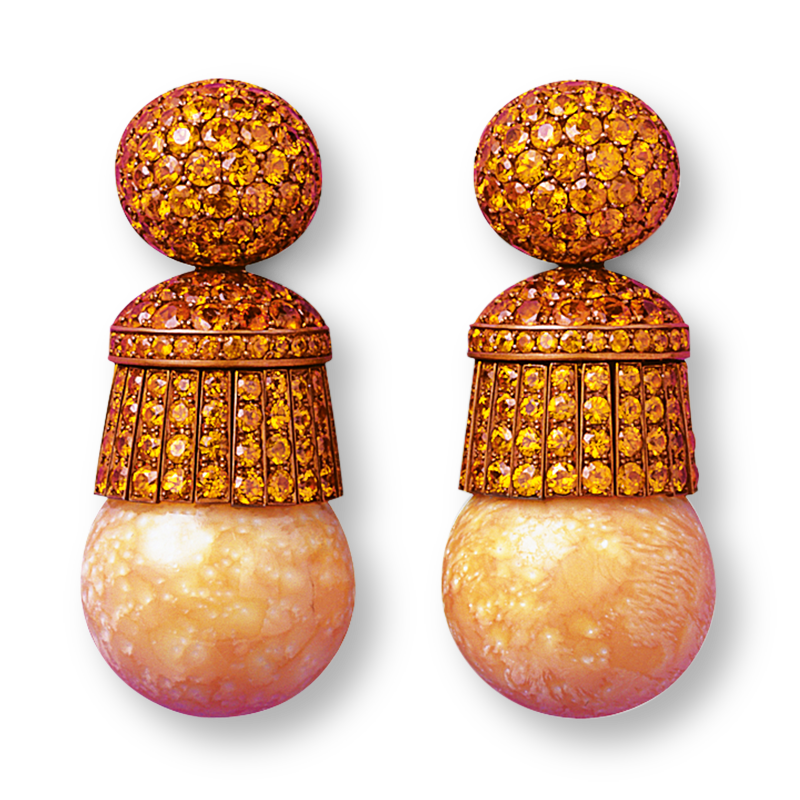 Each pearl is singly sought out and it can take years to find the right harmonic sizes and lustre. This gives each piece a typical Hemmerle unique identity.
Christian Hemmerle
2010
VICTORIA & ALBERT MUSEUM
London
Hemmerle's contribution to jewellery history was recognised internationally when its harmony bangle was acquired by London's Victoria and Albert Museum for the William and Judith Bollinger Jewellery Gallery in 2010. The open-ended bangle, streamlined, graphic with its softly rounded terminals, paved in gems, had been refined and adapted over the years since its inception in the 1990s, interpreted in different materials, colours and themes, to become a Hemmerle signature. The bangle entered the V&A collection 99 years after Prince Arthur of Connaught brought back from Munich for King George V the diamond-set Bavarian Order of St. Hubert made by Hemmerle which remains in the Royal Collection.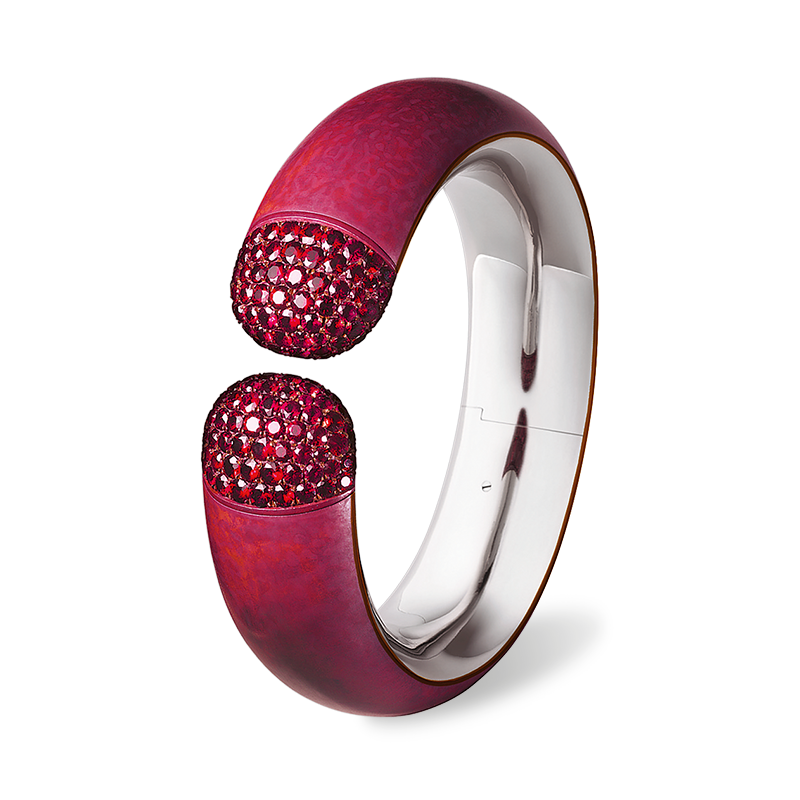 2010 – 2011
SCHMUCKMUSEUM
Pforzheim
Serpentina: The Snake in Jewellery Around the World, November 2011 – February 2012, presented over 120 pieces of remarkable pieces of snake jewellery from various epochs and countries in Europe, Africa, Asia and America at Pforzheim's Jewellery Museum. Hemmerle's snake bracelets made in 1994 were included. One is created in platinum with a brownish-orange diamond head and body set with white diamonds, the other in red gold, its head a white diamond and its body hundreds of brown diamonds.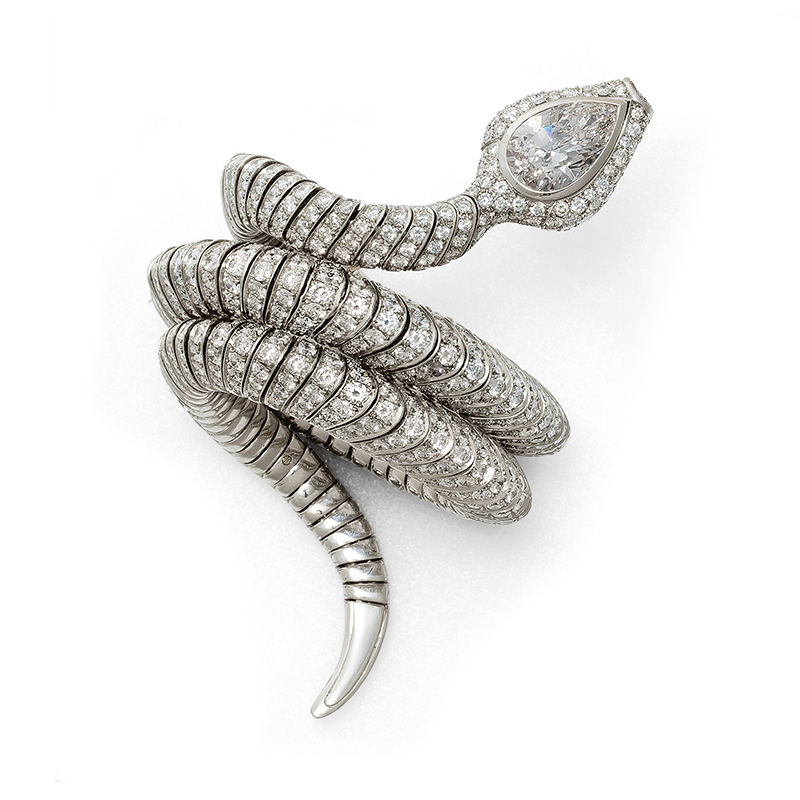 An inspired choice for the Victoria and Albert's superb and much-loved permanent jewellery collection.
Vivienne Becker, Jewellery Historian, Journalist and Author
2008 – 2010
THE NATURE OF DIAMONDS
Hemmerle's gecko brooch, crafted out of green diamonds, was included in The Nature of Diamonds, a travelling exhibition from 2008 – 2010 organised by the American Museum of Natural History, New York, in collaboration with The Field Museum, Chicago; the Royal Ontario Museum, Toronto; and the Houston Museum of Natural Science. The exhibition explored aspects of the diamond, from its geological origins, to its place in history, art, and adornment, to its uses in modern technology and research.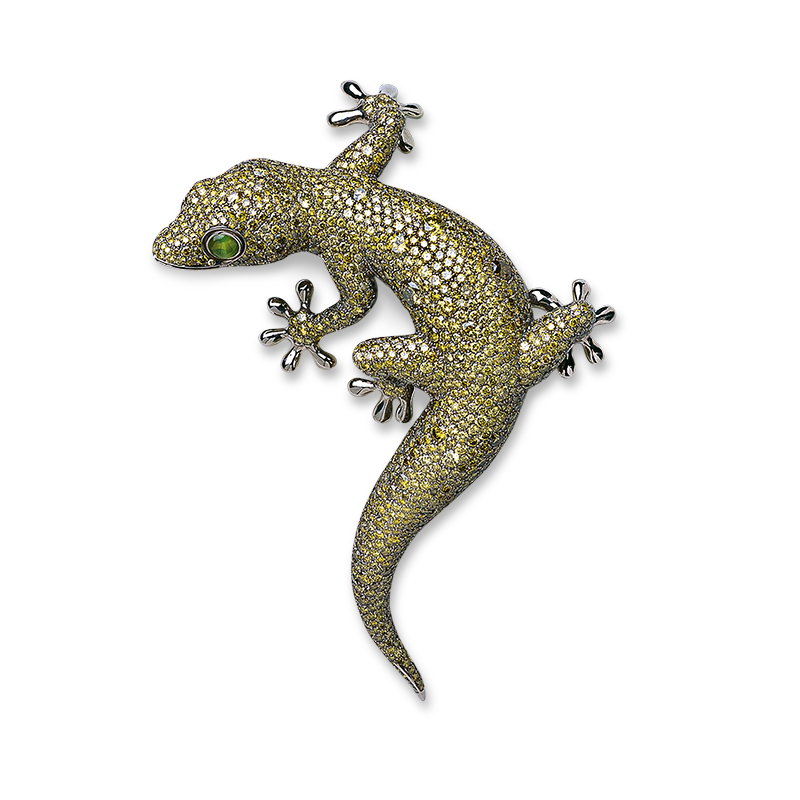 2006
DIE NEUE SAMMLUNG
Munich
In 2006, Die Neue Sammlung, the State Museum of Applied Arts
and Design in Munich staged Myths: Jewels Today – Seen by Stefan Hemmerle, a three-month exhibition showcasing 145 Hemmerle jewels. 30,000 people visit the exhibition, designed by Tom Postma who creates a striking, conceptual, minimalist space, the perfect backdrop to Hemmerle's radical new design-driven jewels.
Stefan Hemmerle embodies one of the most emphatic, puristic positions around: after all, he has managed over the last 20 years to combine the magnificence of the stones with utmost severity of form.
Florian Hufnagl, Erstwhile Director, Die Neue Sammlung State Museum of Applied Arts and Design
2001 – 2008
PEARLS
Hemmerle's tarantula brooch, its body composed of one of the world's largest and rarest dark-brown horse conch-pearl and natural coloured Umba sapphires, the realistic legs of yellow gold, set with brown, yellow and white diamonds, was included in the exhibition Pearls. It traveled from 2001 to 2008 to the American Museum of Natural History, New York; Field Museum, Chicago; Fernbank Museum of Natural History, Atlanta; Houston Museum of Natural Science; Midland Center for the Arts; Royal Ontario Museum, Toronto; Milwaukee Public Museum; National Science Museum, Tokyo; Australian Museum, Sydney; Abu Dhabi Cultural Center; and Musee national d' Histoire Naturelle, Paris.